Did you know that Pilates is a Mindful Practice too?
Pilates is renowned for its effective core strengthening and body toning results, and in fact its mindful nature has often been overlooked. "Pilates" is indeed a form of mind, body and spirit conditioning exercise which was created by and named after the founder Joseph Pilates (1883-1967). The goal of the Pilates Method is regarded as "the attainment and maintenance of a uniformly developed body with a sound mind and the ability to perform life's daily activities with zest and ease."
Being frail with chronic health problems as a child, Joseph turned to exercises to strengthen his body and improve his health and body image. He studied various exercise regimens and became a keen sportsman, developing talents in sports such as diving, gymnastics and boxing. His dedication and strong interests in studying both Eastern and Western exercises including Yoga, Zen, and ancient Greek and Roman regimens laid the foundation of creating his own exercise system, the "Contrology".
His work, Contrology, was develop upon the concept of the classical Greek ideal of a man balanced in body, mind and spirit. Not only it helped him achieve a healthy body, it also became a tool to help war-time patients at the infirmary to rehabilitate and get physically fit; an essential for dancers and athletes to gain better body awareness, control, strength and flexibility for better performance. His system comprised of 6 basic principles: concentration, control, center, flow, precision, and breathing.
The original Pilates' exercise system comprised of 6 basic principles: concentration, control, center, flow, precision, and breathing. These elements set the foundation for the later generations of Pilates schools to adopt and further adapt into its varied practice models nowadays. Pilates once said, "my work is 50 years ahead of its time", and it was in his vision that everyone should practice for better health and body function.
"I must be right. Never an aspirin. Never injured a day in my life. The whole country, the whole world, should be doing my exercises. They'd be happier." - Joseph Hubertus Pilates, in 1965
Almost a hundred years on, Joseph's exercise system gained the well-deserved popularity. It is continuously being passed on around the world and almost everyone would have access to the benefits that Pilates offers.
Making Pilates accessible for everyone? / Is it safe to practice Pilates?
The 'classical' Pilates exercises that Mr. Pilates developed may take many years to perfect and may be beyond the capability of the average person. In view of this, co-founded by Mrs. Lynne Robinson in 1996, Body Control Pilates adapted and broke those exercises down, so that learners can enjoy the full benefits of Pilates whilst working safely and effectively. They have been at the forefront of the international growth in Pilates and pioneered the development of group Matwork Pilates by creating innovative training programs for teachers. It also set their ground as the first specialist training provider to gain recognition against the UK government-backed national standard for Pilates.
Here at Mindful Pilates, Karen, being a Body Control Pilates certified teacher, is dedicated to maintain high teaching standards, professional ethics and continuing education by following the code of practice set by the Body Control Pilates Association. With our precision and progressive approach in teaching, students are ensured to establish good movement skills and set the best possible foundation to progress towards the classical, more advanced work in a safe and supportive environment.
Our method allow us to work with first-time exercisers or those needing rehabilitation after an injury or operation, as well as challenge the skills and stamina of elite athletes. Whether you want to work on a one-to-one basis or in a group class, Mindful Pilates can help you achieve your fitness goals.
Derived from the core principles of the Pilates Method of exercise founded by Joseph Pilates and the teaching guidelines set forth by Body Control Pilates. We delivered that Pilates is a safe, effective and holistic practice and central to our method is the awareness of the body physically and psychologically.
Despite Pilates being a non-religious practice, our work at Mindful Pilates cultivates the minds of practitioner to reach a calm, still and relax state of mind through each session. By drawing attention to the internal feeling of your own body through observation of each movement of your own muscles and joints, such concentration and attention would give you the feeling of having meditated for a whole class. By focusing on breathing and attentively observe the internal feeling of each part of the body while concentrating on the body engagement each movement. Our students would often walked out of our Pilates classes feeling calm, peaceful, fresh, fluid, and invigorated. It would be similar to having meditated for a whole class.
By highlighting Pilates as a somatic practice, Mindful Pilates' program is more than just an outstanding core-strengthening tool; it also helps balance the body and mind by cultivating mindfulness and deep relaxation, leading to a pain-free, stress-free life!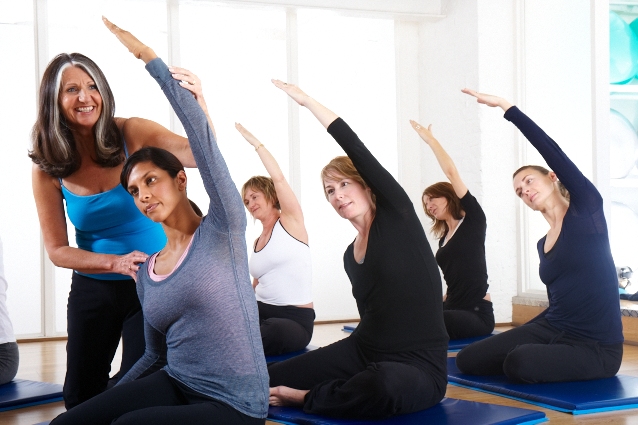 - Lynne Robinson (founder of Body Control Pilates) teaching a class in the U.K.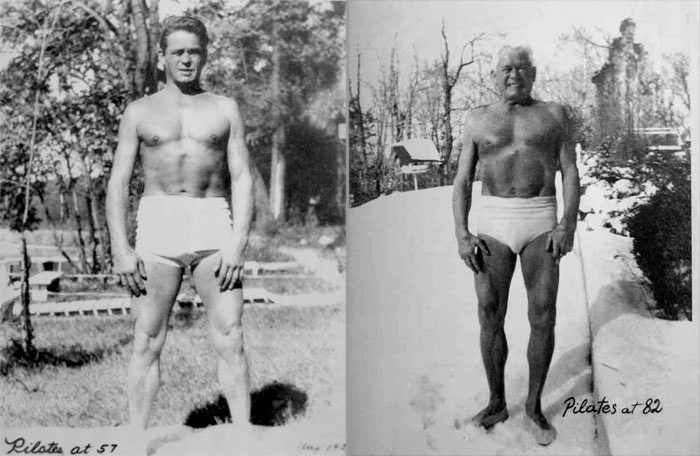 - The legend himself, Joseph Pilates (founder of Pilates)
If you look closely, you'll see that the above photo on the right is taken in the snow! Not bad for 82yrs young :)