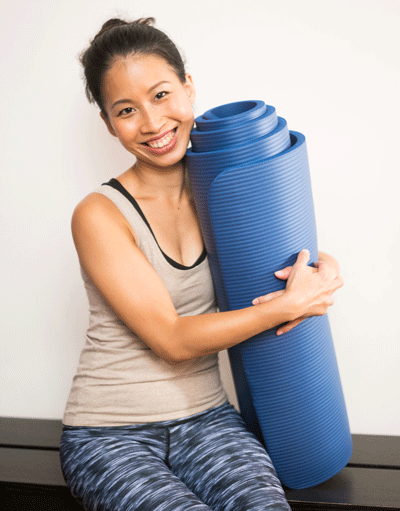 Karen Leung
The seed was sown since a very young age that Karen has a keen eye in observing and correcting details in things, and she has always been in love with exercises and physical challenges. Since 1999 she loves to work out at the gym and practiced Yoga throughout her teenage hood until she came across Pilates in 2006. Like many who started practicing Pilates, her initial goal was to strengthen her body to combat the chronic lower back pain developed from old injuries. The rehabilitation process not only gave her a new balanced body with a strong core, flexible spine, great posture, and a pain free life, it also lead her to a career as a Pilates instructor. Dedicated to spreading the many health benefits of the Pilates Method and to educate people with good movement patterns to avoid wear and tear, she took on the Pilates Instructor Course by Body Control Pilates UK in 2011-2012. Over half a decade, she had taught hundreds of satisfying clients who praised highly on her warm character, attention to details and effective teaching. Her precision, encouragement and perseverance would be able to guide you to gain mobility and stability in the all the right places and excel from your current physical limits.
Prior the career switch, Karen was also an experienced early childhood educator who has an honor degree and post-graduate diploma in education. She left her teaching career in mainstreamed schools with the vision to bring Mindful Pilates to everybody, and most importantly to help shape not only the adults, but also the young minds of our next generation with the concept of "balanced mind, balanced body". She believed that Mindfulness is the key to unlock potentials both physically and cognitively in a human life.
Karen holds a Body Control Pilates Level 3 Pilates Matwork qualification. Over her years of continue education, she took on courses including Intermediate Mat work, Pilates for Children and Adolescents, Prenatal and Post-natal Pregnancy, Reformer I, and Pilates for Lower Back Pain. She is always on the lookout for further education opportunities related to her work.